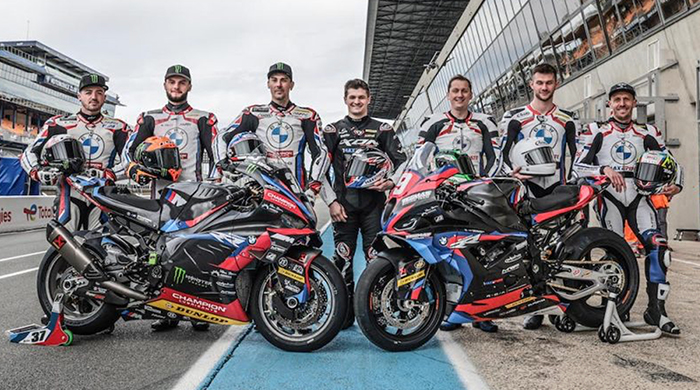 As you know we now have two MRP powered teams driving in the Endurance World Championship with the BMW Motorrad EWC team running in the Formula EWC category and the Tecmas-MRP-BMW Racing team competing in the Superstock Category.

Both teams put down an excellent show during these pre-Mans tests as they came out fastest in their first day of testing! On the second day both the BMW Motorrad EWC Team and the Tecmas-MRP-BMW Team went even below their time of the first day.

The BMW Motorrad World Endurance Team featuring Jérémy Guarnoni, Ilya Mikhalchik and Markus Reiterberger clocked down their fastest time in a stunning 1:35.192! The newly formed Tecmas-MRP-BMW Team with Kenny Foray, Jan Bühn, Loïc Arbel and Maxime Bonnot on the bike, made their way up the order putting the fastest time on the Superstock board with a 1:36.831!

We are ready to take on the 2023 EWC season, starting with the 24 Heures Motos in Le Mans!

With the colder temperatures we were too impatient to wait for the sun so we went to find the warmer conditions ourselves in Spain.

From the 21th until the 23th of March you could've found us racing around the sunny circuit of Cartagena in the South of Spain. Riders were divided into small groups of max 30 riders and categorized from the amateur racer group to the IDM/EWC racer group.

Our fully booked trackday then flew over to the beautiful circuit of Andalucía where the sun followed our trail of trucks that transported the bikes of our participants. The sun brought a lot of joy and excitement to the party and we had 3 days of pure training and racing from the 25th until the 27th of March in Andalucía. Also here the riders were divided into small groups, categorized from the amateur class to the advanced racer class.
Renewed MRP-shop @CircuitZolder

You can now find our renewed MRP shop at the trackdays on Circuit of Zolder!
Come by our shop for gear, maintenance, clothing and much more!
So don't hesitate to stop by and take a look at what we got in store for you.