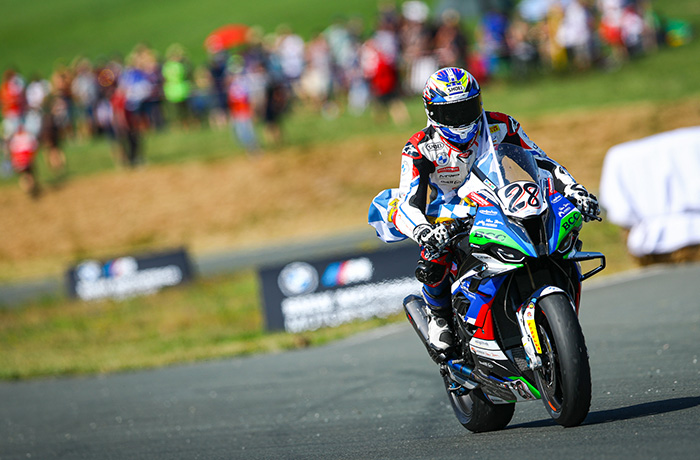 The calendar of the International German Motorcycle Championship IDM 2022 took the German-Belgian team BCC-alpha-Van Zon-BMW to Austria last weekend. The Red Bull Ring was the venue for the penultimate of a total of seven rounds. With their rider Markus Reiterberger (D), the two team bosses Werner Daemen and Andy Gerlich had already clinched the IDM Superbike title at the last race. In addition to Reiterberger, the now four-time IDM champion, Pepijn Bijsterbosch (NL) and Kamil Krzemien (PL) were also back on the grid. Meanwhile, Austrian Jan Mohr is busy with his further recovery.
Markus Reiterberger had come straight to Austria from testing with the BMW endurance team in the south of France and, despite winning the IDM title, did not let up. That's why he probably didn't quite like the fact that his permanent rival Florian Alt snatched the penultimate pole position of the season from under his nose. In the second qualifying session the temperatures had climbed again and despite numerous fast laps 'Reiti' had to settle for second place on the grid.
The first race was not for the faint-hearted. With Alt and Superbike World Championship rider Leandro Mercado, the newly crowned champion engaged in a respectable three-way battle that was hard but hearty. Reiterberger had saved the decisive manoeuvre for the last lap. The Bavarian took the lead at the exit of the new Münzer chicane and did not relinquish it until the finish. "I felt more comfortable on the harder tyre," was Reiterberger's analysis, "it was more stable, although I didn't have as much grip in the race as in qualifying. But I was able to feel my way along and keep up with the rhythm of the guys. On the straight there was no chance to pass. Hence the manoeuvre in the chicane. It was a hair's breadth, similar to Alt's at Oschersleben, but it was right."
In race 2, Reiterberger had to start from 9th place due to the reverse grid rule in force in the IDM. But no problem for the man with race number 28. Already after the first corners he had found his way to the top and controlled the race from the front. The second win of the day was the well-deserved reward. "When I was in front," he reports, "I was able to drive nicely. When I saw that my lead was decreasing, I pushed again and unfortunately ruined my tyres. The last laps were not easy, but I made it through the finish. Thanks to everyone, the spectators and to my team who worked perfectly again."
Pepijn Bijsterbosch had made the long journey from the Netherlands to Styria in Austria highly motivated after his successful IDM-Assen outing. He was still able to benefit from the tips that last year's champion Ilya Mikhalchik had given him at the last race at the Red Bull Ring and impressed with fifth place on the grid in both qualifying sessions.
In the first race he had to let the top three go in the fight for victory, but Bijsterbosch was able to skilfully assert himself in the chasing group and pull away from his rivals. Fourth place was the convincing result. For the second race, the Dutchman was then allowed to take pole position due to the reversed starting order and thus had the best prerequisites for a successful afternoon. Actually. After a rain shower, the track had dried out again, but the right side of the start-finish straight, which was in the shadow of the main grandstand, had not. So Bijsterbosch was on a completely wet starting grid. "This is probably the stupidest pole position I've ever had," he said, looking down.
After the start, things got tight in the first corner and Bijsterbosch collided with another rider. He remained seated and was able to rejoin the field, but the cooling system of his brake caliper, which was urgently needed especially at the Red Bull Ring, had taken some damage. "Because of that, the brake overheated at the end and it went straight once," the Dutchman reported. "That's why I was a little bit disappointed after finishing seventh." For Bijsterbosch, every point counts in the closing stages of the championship, as he has a good chance of finishing third overall.
Kamil Krzemien, as always, came to Austria in a good mood and full of energy. As one of only a few drivers, the Pole managed to improve his personal best time in the second qualifying session. The BMW driver started the first race of the day from 13th on the grid. And he remained true to his familiar pattern of the season so far. In practice, his times were not quite as smooth, but he improved significantly in the race and once again clinched a top ten result with eighth place.
Thanks to the reverse grid, Krzemien started race 2 from the second row. He skilfully converted the good starting position into a good result with 6th place. "In the second qualifying session we tried something else," he revealed afterwards, "which wasn't so good. That's why we went back to the Q1 setting with the set-up for the first race. I was happy with that. With the soft tyre, I was pretty much at the limit in the last four or five laps in the first race. But of course I was happy that I ended up on the second row of the grid for race 2 with my result."
"In the second race we took a bit of a risk with the set-up again," the Pole reported. "I was riding with a similar set-up to my team-mate Markus Reiterberger. This allowed me to get the maximum out of the brakes and I had grip on corner exit. I then tried everything to get past Bastien Mackels in 5th place, but there was no opportunity to attack him yet. But the results will come from me sooner or later. I hope sooner, of course."
Hardly started, the 2022 season is already coming to an end. The last stop of the IDM is the Hockenheimring from 23 to 25 September.
IDM Superbike Q1+Q2
1. 1:32,505 min. Florian Alt (D/BMW)
2. 1:32,999 min. Markus Reiterberger (D/BMW)
3. 1:33,714 min. Leandro Mercado (ARG/Honda)
5. 1:34,342 min. Pepijn Bijsterbosch (NL/BMW)
13. 1:35,433 min. Kamil Krzemien (PL/BMW)
Results IDM Superbike Race 1
1. Markus Reiterberger (D/BMW)
2. Florian Alt (D/BMW)
3. Leandro Mercado (ARG/Honda)
4. Pepijn Bijsterbosch (NL/BMW)
8. Kamil Krzemien (PL/BMW)
Results IDM Superbike Race 2
1. Markus Reiterberger (D/BMW)
2. Florian Alt (D/BMW)
3. Leandro Mercado (ARG/Honda)
6. Kamil Krzemien (PL/BMW)
7. Pepijn Bijsterbosch (NL/BMW)
Overall standing after 12 of 14 races
1. 295 Punkte Markus Reiterberger (D/BMW)
2. 178 Punkte Florian Alt (D/BMW)
3. 126 Punkte Rob Hartog (NL/Yamaha)
4. 121 Punkte Pepijn Bijsterbosch (NL/BMW)
5. 91 Punkte Julian Puffe (D/BMW)
6. 90 Punkte Leandro Mercado (ARG/Honda)
7. 86 Punkte Kamil Krzemien (PL/BMW)
Deutsch
IDM Red Bull Ring: Erfolg auf der ganzen Linien – Doppelsieg inklusive
Der Kalender der Internationalen Deutschen Motorradmeisterschaft IDM 2022 führte das deutsch-belgische Team BCC-alpha-Van Zon-BMW am vergangenen Wochenende nach Österreich. Auf dem Red Bull Ring fand der vorletzte der insgesamt sieben Läufe statt. Mit ihrem Piloten Markus Reiterberger (D) hatten die beiden Teamchefs Werner Daemen und Andy Gerlich bereits beim letzten Rennen den Titel in der IDM Superbike klargemacht. Neben Reiterberger, dem nun vierfachen IDM-Champion, waren auch wieder der Pepijn Bijsterbosch (NL) und Kamil Krzemien (PL) mit dabei. Mit seiner weiteren Genesung ist derweil der Österreicher Jan Mohr beschäftigt.
Markus Reiterberger war vom Test mit dem BMW-Langstrecken-Team von Südfrankreich direkt nach Österreich gekommen und ließ trotz gewonnenem IDM-Titel nicht locker. Daher dürfte es ihm auch nicht ganz geschmeckt haben, dass ihm sein Dauer-Konkurrent Florian Alt die vorletzte Pole-Position der Saison vor der Nase wegschnappte. Im zweiten Quali waren die Temperaturen nochmals in die Höhe geklettert und trotz zahlreicher schneller Runden blieb es für 'Reiti' bei Startplatz 2.
Das erste Rennen war dann nichts für schwache Nerven. Mit Alt und Superbike-WM-Pilot Leandro Mercado lieferte sich der frisch gekürte Champion einen ansehnlichen Dreikampf, bei dem es hart, aber herzlich zuging. Das entscheidende Manöver hatte sich Reiterberger für die letzte Runde aufgespart. Ausgangs der neuen Münzer-Schikane übernahm der Bayer die Führung und gab diese bis ins Ziel nicht mehr her. «Ich habe mich auf dem härteren Reifen wohler gefühlt», so Reiterbergers Analyse, «das war stabiler, obwohl ich im Rennen nicht so viel Grip hatte wie im Quali. Doch ich konnte mich rantasten und den Rhythmus der Jungs mitgehen. Auf der Gerade gab es keine Chance vorbeizukommen. Daher das Manöver in der Schikane. Es war haarscharf, ähnlich wie das von Alt in Oschersleben, doch es hat gepasst.»
In Lauf 2 musste Reiterberger wegen der in der IDM geltenden Regel des Reverse Grid von Platz 9 aus starten. Doch kein Problem für den Mann mit der Startnummer 28. Schon nach den ersten Kurven hatte er den Weg an die Spitze gefunden und kontrollierte das Rennen von der Spitze weg. Der zweiter Tagessieg der verdiente Lohn. «Als ich vorne war», berichtet er, «konnte ich schön fahren. Als ich gesehen habe, dass sich mein Vorsprung verringert, habe ich nochmal gepusht und mir dabei leider meine Reifen ruiniert. Die letzten Runden waren nicht einfach, aber ich habe es durchs Ziel gebracht. Danke an alle, die Zuschauer und an mein Team, das wieder perfekt gearbeitet hat.»
Pepijn Bijsterbosch hatte nach seinem erfolgreichen IDM-Assen-Ausflug hochmotiviert die lange Reise von den Niederlanden in die österreichische Steiermark angetreten. Von den Tipps, die ihm beim letzten Rennen der Vorjahrsmeister Ilya Mikhalchik mit auf den Weg gegeben hatte, konnte er auch am Red Bull Ring noch profitieren und überzeugte in den beiden Zeittrainings mit dem fünften Startplatz.
Im ersten Rennen musste er die Top-Drei im Kampf um den Sieg zwar ziehen lassen, doch Bijsterbosch konnte sich in der Verfolgergruppe gekonnt durchsetzen und sich von seinen Konkurrenten absetzen. Platz 4 das überzeugende Resultat. Für den zweiten Lauf durfte der Niederländer durch die umgekehrte Startreihenfolge dann auf der Pole-Position Platz nehmen und hatte somit beste Voraussetzungen für einen erfolgreichen Nachmittag. Eigentlich. Denn nach einem Regenschauer war die Strecke zwar wieder abgetrocknet, nur die rechte, im Schatten der Haupttribüne liegende, Seite der Start-Ziel-Geraden nicht. Somit stand Bijsterbosch auf einem komplett nassen Startplatz. «Das ist wohl die blödeste Pole-Position, die ich je hatte», meinte er mit einem Blick nach unten.
Nach dem Start wurde es eng in der ersten Kurve und Bijsterbosch kollidierte mit einem anderen Fahrer. Er blieb zwar sitzen, konnte sich wieder im Feld einreihen, doch das vor allem am Red Bull Ring dringend benötigte Kühlsystem seiner Bremszange hatte etwas abbekommen. «Dadurch überhitzte die Bremse am Ende und es ging einmal geradeaus», so der Bericht des Niederländers. «Deshalb war ich nach dem siebten Platz im Ziel schon ein klein wenig enttäuscht.» Für Bijsterbosch zählt in der Schlussphase der Meisterschaft jeder Punkt, denn er hat gute Chancen, die Meisterschaft auf Platz 3 der Gesamtwertung zu beenden.
Kamil Krzemien kam wie immer gut gelaunt und voller Tatendrang nach Österreich gereist. Als einer von wenigen Fahrern gelang es dem Polen, seine persönliche Bestzeit im zweiten Qualifying noch zu verbessern. Vom 13. Startplatz aus ging es für den BMW-Piloten in das erste Rennen des Tages. Und er blieb seinem bekannten Muster der bisherigen Saison treu. Im Training gingen ihm die Zeiten noch nicht ganz so geschmeidig von der Hand, dafür steigerte er sich im Rennen deutlich und eroberte mit Rang 8 erneut ein Top-Ten-Ergebnis.
Dank des Reverse-Grid ging Lauf 2 für Krzemien dann aus der zweiten Reihe los. Gekonnt setzte er die gute Start-Position mit Platz 6 in ein gutes Ergebnis um. «Im zweiten Quali hatten wir noch was probiert», verriet er anschließend, «was nicht so gut war. Daher sind wir für das erste Rennen wieder mit dem Set-up zurück auf die Q1-Einstellung gegangen. Damit war ich happy. Mit dem weichen Reifen war ich im ersten Rennen in den letzten vier, fünf Runden ziemlich am Limit. Aber ich war natürlich zufrieden, dass ich mit meinem Ergebnis in er zweiten Startreihe für Lauf 2 gelandet bin.»
«Beim zweiten Lauf haben wir beim Set-up wieder ein wenig riskiert», berichtet der Pole. «Ich war mit einem ähnlichen Set-up wie mein Teamkollege Markus Reiterberger unterwegs. Dadurch konnte ich beim Bremsen das Maximum herausholen und hatte Grip am Kurvenausgang. Ich habe dann alles probiert, um an Bastien Mackels auf Platz 5 vorbeizukommen, aber es gab keine Gelegenheit, ihn noch zu attackieren. Aber die Ergebnisse werden früher oder später von mir kommen. Ich hoffe natürlich früher.»
Kaum angefangen, geht die Saison 2022 auch schon wieder Ende. Letzte Station der IDM ist vom 23. bis 25. September der Hockenheimring.
Nederlands
IDM Red Bull Ring: Succes over de hele lijn – dubbele overwinning inbegrepen
De kalender van het Internationale Duitse Motorfiets Kampioenschap IDM 2022 bracht het Duits-Belgische team BCC-alpha-Van Zon-BMW afgelopen weekend naar Oostenrijk. De Red Bull Ring was de locatie voor de voorlaatste van in totaal zeven rondes. Met hun rijder Markus Reiterberger (D) hadden de twee teambazen Werner Daemen en Andy Gerlich de IDM Superbike-titel tijdens de laatste race al binnengehaald. Naast Reiterberger, de nu viervoudig IDM-kampioen, stonden ook Pepijn Bijsterbosch (NL) en Kamil Krzemien (PL) weer op de startgrid. Ondertussen is de Oostenrijker Jan Mohr bezig met zijn verdere herstel.
Markus Reiterberger was rechtstreeks naar Oostenrijk gekomen van het testen met het BMW endurance team in het zuiden van Frankrijk en liet het er niet bij zitten, ondanks het winnen van de IDM titel. Daarom vond hij het waarschijnlijk niet zo leuk dat zijn vaste rivaal Florian Alt de voorlaatste pole position van het seizoen onder zijn neus wegkaapte. In de tweede kwalificatiesessie waren de temperaturen opnieuw gestegen en ondanks talrijke snelle ronden moest 'Reiti' genoegen nemen met de tweede plaats op de grid.
De eerste race was niet voor bangeriken. Met Alt en Superbike-wereldkampioen Leandro Mercado ging de nieuw gekroonde kampioen een respectabele driestrijd aan, die hard maar stevig was. Reiterberger had de beslissende manoeuvre voor de laatste ronde bewaard. De Beier nam de leiding bij het uitkomen van de nieuwe Münzer chicane en gaf die niet meer uit handen tot aan de finish. "Ik voelde me comfortabeler op de hardere band", analyseerde Reiterberger, "hij was stabieler, hoewel ik in de race niet zoveel grip had als in de kwalificatie. Maar ik was in staat om mijn weg te voelen en het ritme van de jongens te volgen. Op het rechte stuk was er geen kans om te passeren. Vandaar de manoeuvre in de chicane. Het was op een haar na, vergelijkbaar met Alt's in Oschersleben, maar het klopte."
In race 2 moest Reiterberger starten van op de 9de plaats, als gevolg van de omgekeerde gridregel die van kracht is in het IDM. Maar geen probleem voor de man met startnummer 28. Al na de eerste bochten had hij de weg naar de top gevonden en controleerde hij de race van voren af aan. De tweede overwinning van de dag was de welverdiende beloning. "Toen ik op kop lag," rapporteert hij, "kon ik mooi rijden. Toen ik zag dat mijn voorsprong kleiner werd, pushte ik opnieuw en helaas ruïneerde ik mijn banden. De laatste ronden waren niet gemakkelijk, maar ik haalde de finish. Bedankt aan iedereen, de toeschouwers en aan mijn team dat weer perfect gewerkt heeft."
Pepijn Bijsterbosch had de lange reis van Nederland naar Stiermarken in Oostenrijk zeer gemotiveerd gemaakt na zijn succesvolle IDM-Assen uitstapje. Hij kon nog profiteren van de tips die de kampioen van vorig jaar, Ilya Mikhalchik, hem tijdens de laatste race op de Red Bull Ring had gegeven en maakte indruk met een vijfde startplaats in beide kwalificatiesessies.
In de eerste race moest hij de top drie laten gaan in de strijd om de overwinning, maar Bijsterbosch wist zich vakkundig te handhaven in de achtervolgende groep en zich los te rukken van zijn rivalen. De vierde plaats was het overtuigende resultaat. Voor de tweede race mocht de Nederlander vervolgens door de omgekeerde startvolgorde de pole-position innemen en had hij dus de beste voorwaarden voor een succesvolle middag. Eigenlijk. Na een regenbui was de baan weer opgedroogd, maar de rechterkant van de start-finish rechte lijn, die in de schaduw van de hoofdtribune lag, was dat niet. Bijsterbosch stond dus op een volledig natte startgrid. "Dit is waarschijnlijk de domste pole position die ik ooit heb gehad," zei hij, naar beneden kijkend.
Na de start werd het krap in de eerste bocht en kwam Bijsterbosch in botsing met een andere rijder. Hij bleef zitten en kon weer aansluiten bij het veld, maar het koelsysteem van zijn remklauw, dat vooral op de Red Bull Ring dringend nodig was, had wat schade opgelopen. "Daardoor raakte de rem aan het eind oververhit en ging hij een keer rechtdoor," meldde de Nederlander. "Daarom was ik een beetje teleurgesteld na mijn zevende plaats." Voor Bijsterbosch telt elk punt in de slotfase van het kampioenschap, want hij heeft een goede kans om als derde algemeen te eindigen.
Kamil Krzemien kwam, zoals altijd, in een goed humeur en vol energie naar Oostenrijk. Als een van de weinige coureurs wist de Pool zijn persoonlijke beste tijd in de tweede kwalificatiesessie te verbeteren. De BMW-coureur startte de eerste race van de dag vanaf de 13e startplaats. En hij bleef trouw aan zijn vertrouwde patroon van het seizoen tot nu toe. In de training waren zijn tijden niet zo vlot, maar in de race verbeterde hij zich aanzienlijk en met een achtste plaats behaalde hij opnieuw een top tien-resultaat.
Dankzij de omgekeerde startopstelling startte Krzemien race 2 vanaf de tweede rij. Hij zette de goede uitgangspositie vakkundig om in een goed resultaat met een 6e plaats. "In de tweede kwalificatiesessie probeerden we iets anders," onthulde hij na afloop, "wat niet zo goed was. Daarom zijn we teruggegaan naar de afstelling van Q1 met de set-up voor de eerste race. Daar was ik blij mee. Met de zachte band zat ik op de limiet in de laatste vier of vijf ronden van de eerste race. Maar ik was natuurlijk blij dat ik met mijn resultaat op de tweede startrij voor race 2 eindigde."
"In de tweede race namen we weer een beetje risico met de set-up", meldde de Pool. "Ik reed met een soortgelijke set-up als mijn teamgenoot Markus Reiterberger. Hierdoor kon ik het maximale uit de remmen halen en had ik grip bij het uitkomen van de bocht. Daarna probeerde ik alles om voorbij Bastien Mackels op de 5e plaats te komen, maar er was nog geen gelegenheid om hem aan te vallen. Maar de resultaten zullen vroeg of laat van mij komen. Ik hoop eerder, natuurlijk."
Nauwelijks begonnen, loopt het seizoen 2022 al op zijn einde. De laatste stop van de IDM is de Hockenheimring van 23 tot 25 september.